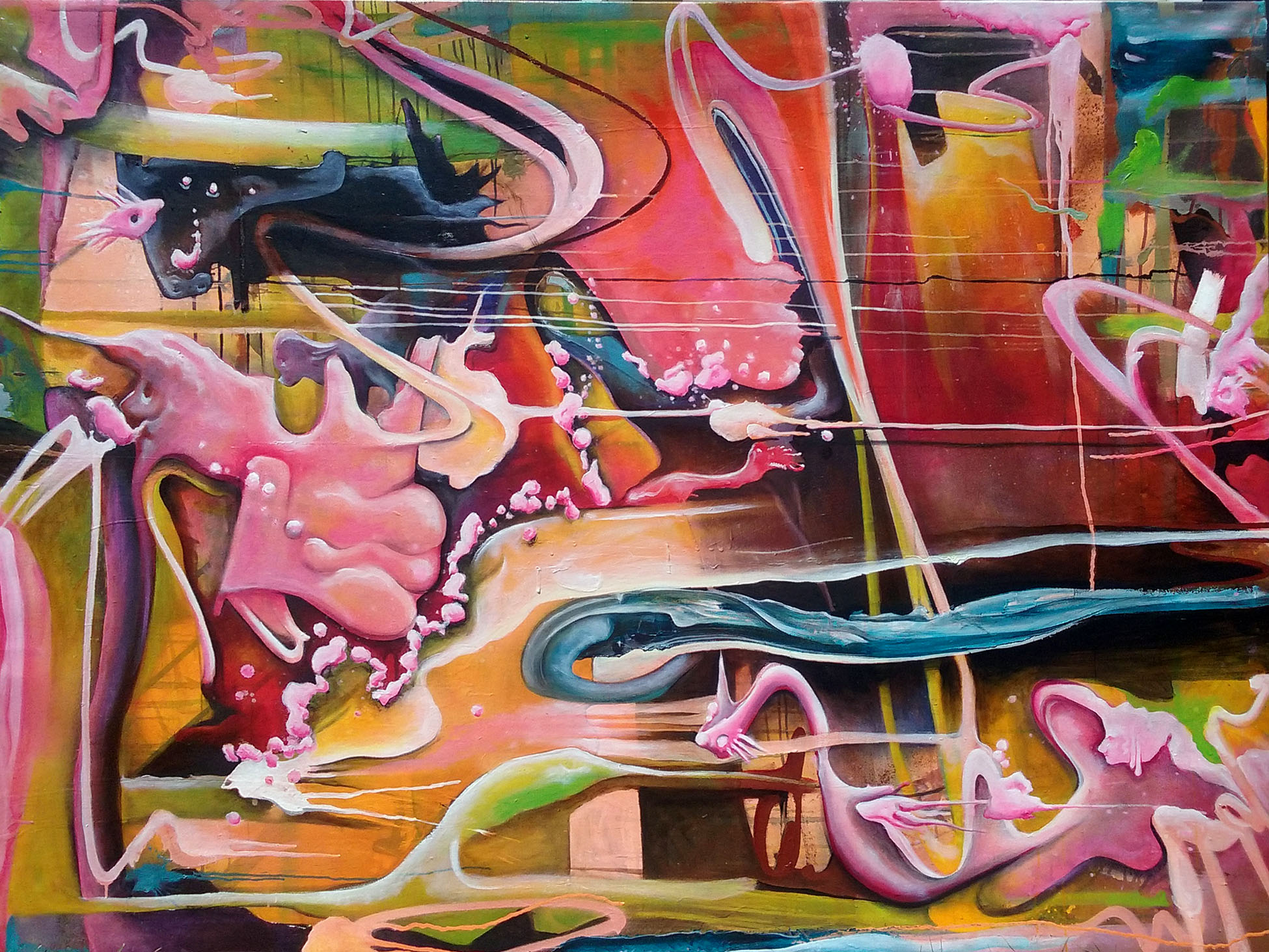 The Footprint of a Working Artist
Dan Mills
Opening: June 19 5:30 pm
Viewing: June 20 until June 29
---
Intuitive mixed media paintings, evolving in the space between the blocks of commissioned work.
I've painted and made art for a living for most of my life. I continue to be a full time, independent artist.
We have lived in Whanganui for the last 6 years. We have 3 Daughters, Rose (3months) Anna (4) Maria (6), my wife Katerina is a full time Mum. My family are my motivation, that's why I'm making more work at my home studio and spending less time driving around the country painting buildings, the development of that work being shown here.
My paintings are reactions to circumstance and surrounding. They're emotional and intuitive rather than intellectual or pre-conceived. I often describe them as Abstract, Expressive Surrealism. I work on many pieces at a time. Usually each piece starts as a chaotic and accidental series splashes and marks, then become steadily more refined, some of my canvas' start out as drop-sheets, others occupy a space next to another work and absorb paint form the piece before it, many paintings leapfrog through my studio at a time.
It's important for the initial paint to arrive unconsciously. I explore those areas and spaces, I go deeper inside, dressing the space. Much like a Rorschach test, the imagery I find reflects my own subconscious, my rational brain can take over to do the fine brush work, tweaking the composition, stretching and making the final preparations of the canvas.
I often find that I include trees and flowers that surround me at the time of making the work, I feel that these give a piece a sense of the climate, season and location.
I believe that my life experiences are much like everyone else's, that the symbols I identify are a part of the language of a greater shared consciousness. It is my feeling that by committing to this practice I can make work that is unique to myself while striking a chord with a wider community.
I grew up between England and New Zealand, moving between family at both ends, I attended high school in Lower Hutt. My first year of tertiary study was in 1995 at Marlborough Polytechnic, (Art, Craft and Design Foundation) My first commissions came that year. In 1998-99 I attended the Leaning Connections Erskine campus, (advanced diploma) I worked in the community as a mural painter throughout this period, after that I travelled and developed, living in Paris for a while (2001-2) as well as St Ives (2003) and Canberra (2004), I became focused on making a living from painting in 2005 when I returned to Wellington.
I've spent extended periods in my wife's native Czech Rep 2006, 2009-10, 2014 and 2017. It's important to us to maintain a strong link to that culture.
I have drawn a great deal of inspiration from Prague and the surrounding provinces, as well as the South West of England and the forests and coast of New Zealand, especially Whanganui and the far North.
Space Studio & Gallery {Gallery 2}
---