Emma Cunningham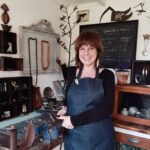 Emma Cunningham speaks in the language of materiality. Her fine eye and attention to detail in shaping and casting recycled metal perfectly sets off and accentuates natural materials such as stone, wood, fresh-water pearls, shell and seeds. This assemblage style is seen in both her 2-D and jewellery practices.
Based in rural Whanganui you'll find Emma nestled in her Flying Dog studio creating contemporary bespoke jewellery for her nationwide stockists and artworks for exhibitions. Emma's jewellery was also recently represented at New York Fashion Week and the current represented works are from this collection 'The Enchanted Garden' (2023).
Inspired by ancient mythologies and folklore Emma uses nature and birdlife to highlight the importance of reflecting on our history to preserve our future. These works are one-off pieces sold exclusively through Space Studio & Gallery.