Our Studios
Space Studios are located upstairs in the historic 1907 Dalgety & Co. building on Saint Hill Street; currently home to artists Sandy de Kock, Glen Hutchins, Michael Haggie, K P Taylor, Kaye Coombs & Siobhan Wooding. 
Space Studios were developed in order to further support and encourage our local artists by providing more opportunity to make and sell their work; also providing artists moving to Whanganui a place to set-up their practice within our city.
We can have up to 10 Studios available ranging from $45.00 per week to $65.00 per week, we offer 7 different sizes, and expenses such as WIFI & power is included in the rental price (heating only available in selected studios). We also now have 1 private lockable studio space available.
Bonuses of working in our studios include being offered a yearly exhibition slot with Space at a discounted rate (exhibition proposal still required), involvement in Artists Open Studios and other exciting events.
Work alongside up to 9 other like-minded creative people, with facilities such as bathroom and kitchenette (fridge/ microwave).
Studios Currently Available:
View studio floorplan: Studio Layout OCT 2021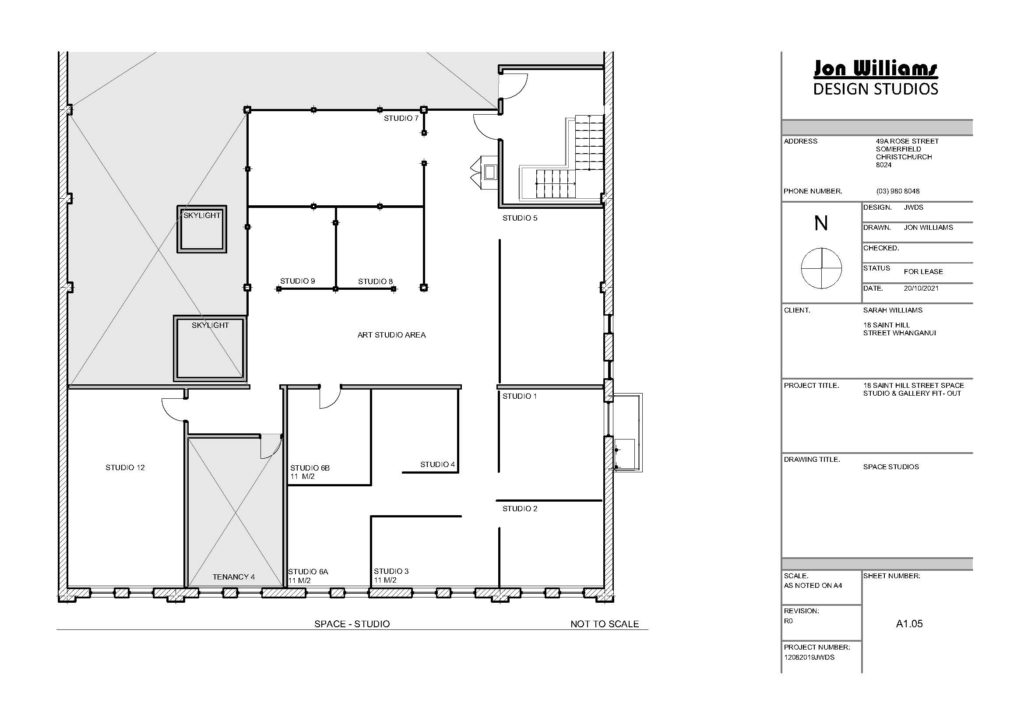 1 : RENTED
2 : RENTED
3 : RENTED
4 : AVAILABLE @ $45 per week
5: RENTED
6 A: RENTED
6 B: (LOCKABLE) AVAILABLE @ $65 per week
7 : RENTED
8 : AVAILABLE @ $45 per week (heating additional)
9 : AVAILABLE @ $45 per week (heating additional)
Contact us now to enquire about a studio.