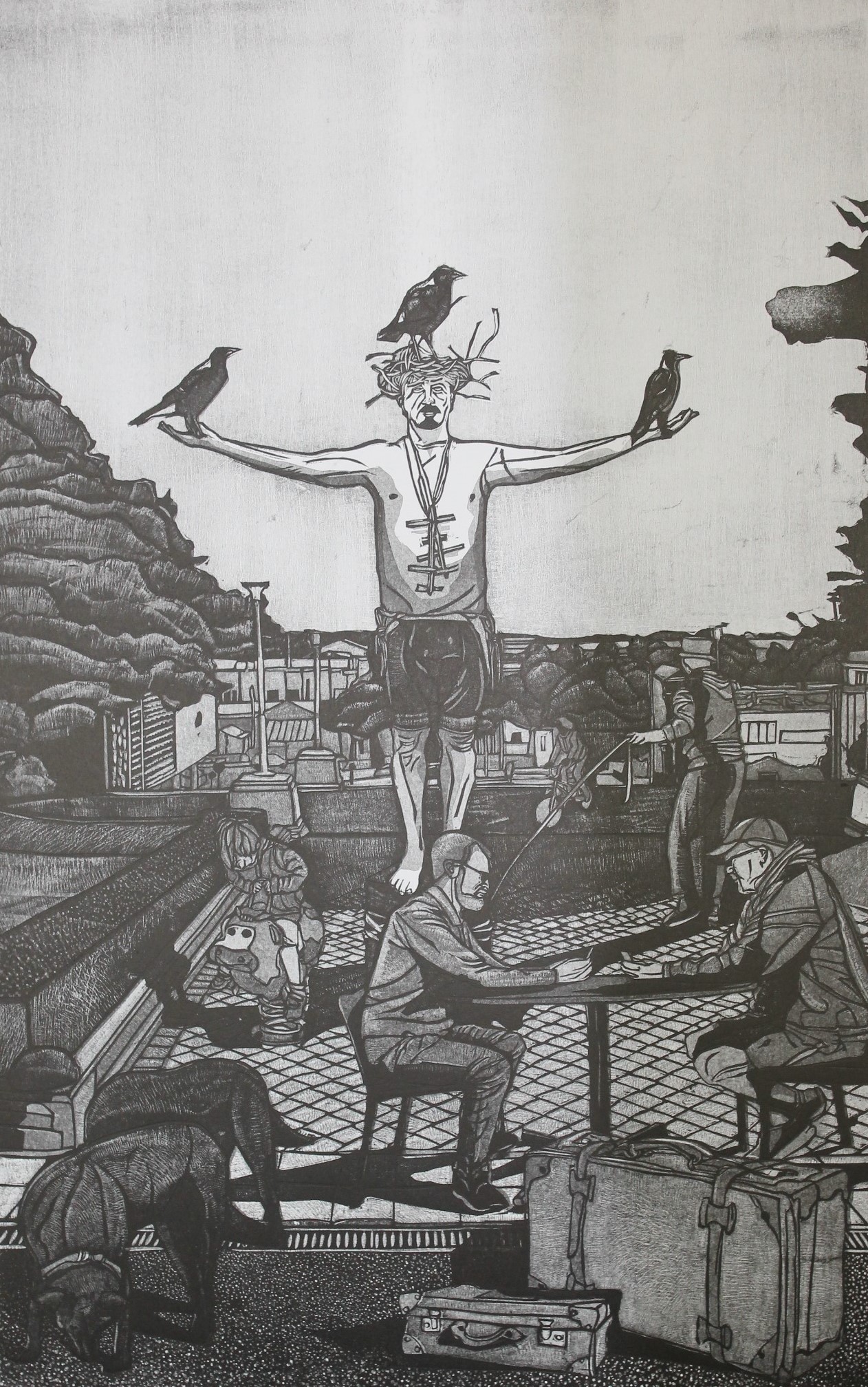 The Stations of the Cross
Graham Hall
Opening: April 5 5:30 pm
Viewing: April 5 until April 29
---
Short History:
Born out of widespread devotion to the passion of Christ in the 12th and 13th centuries, the Stations of the Cross, as a devotion, did not begin to develop until the Franciscans were granted custody of Christian sites in Jerusalem in 1342. The Via Dolorosa or the Way of sorrows was identified, which imitates the path Jesus walked to Mt Calvary.
Influences:
The Fourteen Stations of the Cross are a common subject in the iconography and devotions of the Christian church; they map the journey, both physical and emotional, of Christ's progress to the site of his crucifixion, his death, and the disposal of his body. Many images of the various stations have been made over the centuries, re-enactments are staged (the most famous of them at Oberammergau) and pilgrims still walk the Via Dolorosa in Jerusalem.
Artists have depicted the "Journey" throughout the centuries. A recurring theme in early Renaissance Art, where commissioned art works were made by most artists in Italy and Europe, depicting the life of Christ. An enduring influence in my own work has been that of Piero Della Francesca. His use of quiet space, mathematical structure, and contemporary setting has had an impact on how the works were constructed. Several Renaissance constructed devices underpin the work. Placing the Stations of the Cross in contemporary local environments is not new. In Colin McCahons painting series, the 14 stations of the Cross (1966) he draws on his use of landscape to enact the narrative.
The 12 Woodcut prints represent the 12 stations of the Cross. I walked the Via Dolorossa in Jerusalem in the late 1970's and have a desire to recreate the work in a New Zealand setting. The first Station starts by the Cenotaph on Cooks Gardens and the 12th station end in the front steps of the Sarjeant Gallery. Within each work are references to popular culture, recurring figures, and repurposed art works. (Paul Cezanne, the Card players 1890).
The 12th station of the Cross uses three reference points, Tilda Swinton in the 2103 film "Snowpiercer ", Slaughterhouse Five, written by Kurt Vonnegut in 1969, and Hans Holbein the Younger and his woodcut series "Der Totentanz" published in 1558.
{ Gallery 2 }
---