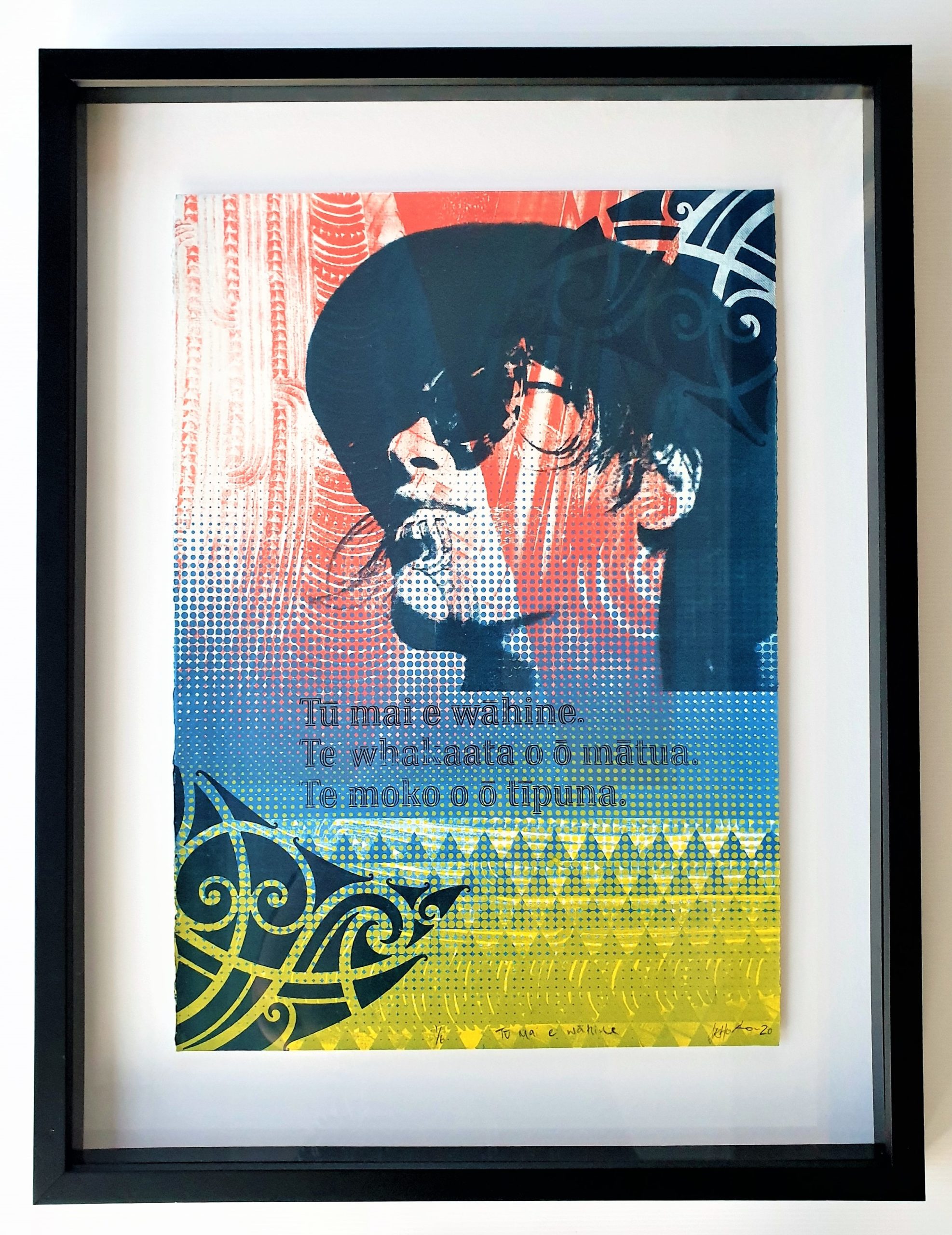 Jasmine Horton, Tū mai e wāhine
$950
Kuaoho, to me, means empowerment – its searching for knowledge and using it to create a better world for future generations. It is about walking the walk. Wāhine have got our work cut out for us right now with the state of Te Ao. Our empathy, nurturing and strength are needed now more than ever, and luckily, passionate wāhine KuaOHO are stepping up and taking the lead. These wāhine are casting off the shackles of colonial and familial legacies. They are grounded in māoritanga, looking to their ancestors while leading us into the future and it is an exciting time.
"Tū mai e wāhine. Te whakaata o ō mātua. Te moko o ō tīpuna."
These kupu translate to, "Stand strong wāhine. The reflection of your parents. The blueprint of your ancestors." It encourages wāhine to be proud in the knowledge that they are the embodiment of all those who have gone before them.
The wāhine featured in my print 'Tū mai e wāhine' is wāhinetoa Davina Merepeka Thompson, a good friend who I have seen walk the walk. To me, Davina is the embodiment of KuaOHO and who I instantly thought of when I read the kaupapa for this show. She represents the contemporary wāhine who transcend the frailties of their upbringing and do the mahi to heal for the sake of future generations. She is an awakened woman, passionate about maoritanga. A māmā, an award-winning businesswoman, a scholar, activist and eco-warrior, an amazing health advocate who teaches women how to be physically strong, she has represented Aotearoa internationally in a variety of sports. Davina lives her life by maramataka, the way her tīpuna taught her and passes on that knowledge to empower whanau and the wider community.
---
Size: 500 x 655 mm (includes framing)
Medium: 6 Colour Serigraph
Status: For Sale
---
Enquire about this work: